Saving money and time on construction projects is a challenge!
We've built the simplest construction management software that supports field teams with complete sheet management, RFI and Submittal creation, field collaboration, and task management. iFieldSmart is excited to roll out new capabilities that include bid management, Punch Lists, and quality control. Our construction management platform is designed and delivered to be user-friendly, yet powerful to manage multiple field operations for any audience – general contractors and specialty contractors.
To compete in present-day construction, back office and onsite teams need cloud-based construction management solutions. With 100% of our platform design and functional capabilities coming from identifying and resolving challenges, the iFieldSmart dashboard has been effective and efficient to obtain the desired outcomes.
Construction Management with iFieldSmart.
iFieldSmart is a single powerful solution for General Contractors, Specialty Contractors, and Architects to keep projects on track. Drawings are fundamental for general contractors and specialty contractors. Having the capacity to collaborate on multiple drawings sets for various trades including mechanical, electrical, plumbing, and fire protection with accurate and detailed annotation features fuels greater communication.
How is iFieldSmart different?
Integrating issues within the drawing itself is a strong feature to access, manipulate, and manage sheets. iFieldSmart provides its users with complete simplicity to view an updated drawing set or attach project photos within drawings. Keeping your job on track and on time requires optimal management of RFIs and Submittals.
iFieldSmart has proven to save hundreds of hours for field professionals with higher efficiencies for project managers. The capability to eliminate silo workflows to create RFIs and Submittals using an easy form with various parameters including initiation date, RFI manager, subject line, cost impact, attachments, distribution lists, and other capabilities reduces the time and cost.
Process RFIs quicker
Using the iFieldSmart platform, users do not have to navigate through hassle-induced conditions like large trail mails and dropped calls. We've built iFieldSmart for accelerated RFI creation and management through digital data on a single dashboard. RFIs assigned to responsible teams can identify and resolve RFI issues whilst reducing communication time. Integrating RFIs into tasks and plans enhances activity tracking, tasks accomplished, and accountability improvements.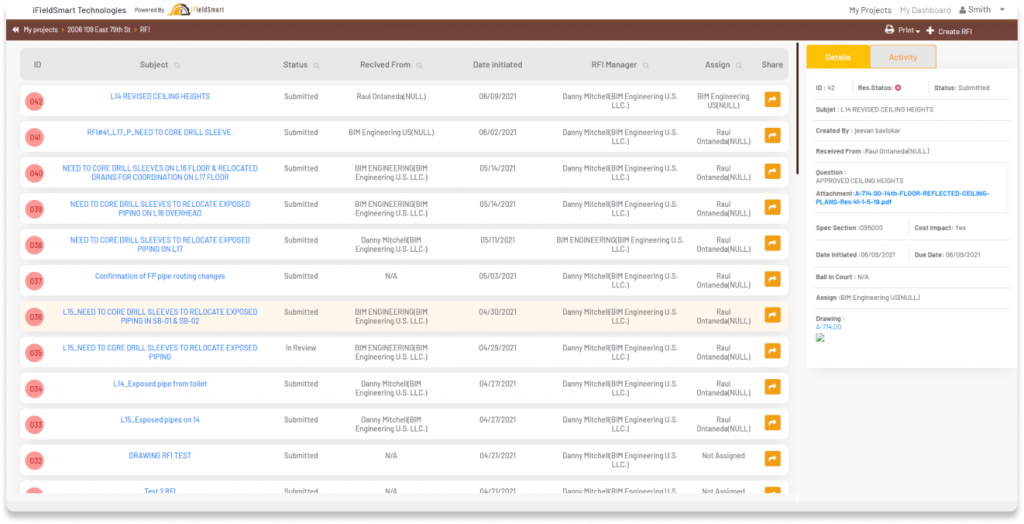 Create and manage Submittals
When creating the Submittal feature, a simplistic methodology has been implemented for teams to get quickly onboarded. iFieldSmart provides relevant users with capabilities of granular visibility, submittals revisions, spec sections, issue dates, color codes, distribution lists, and various attachments. Extracting submittal logs improves project scope and activity tracking. PDF documents that need to be digitally signed can be selected with the sign-off feature.
Submittals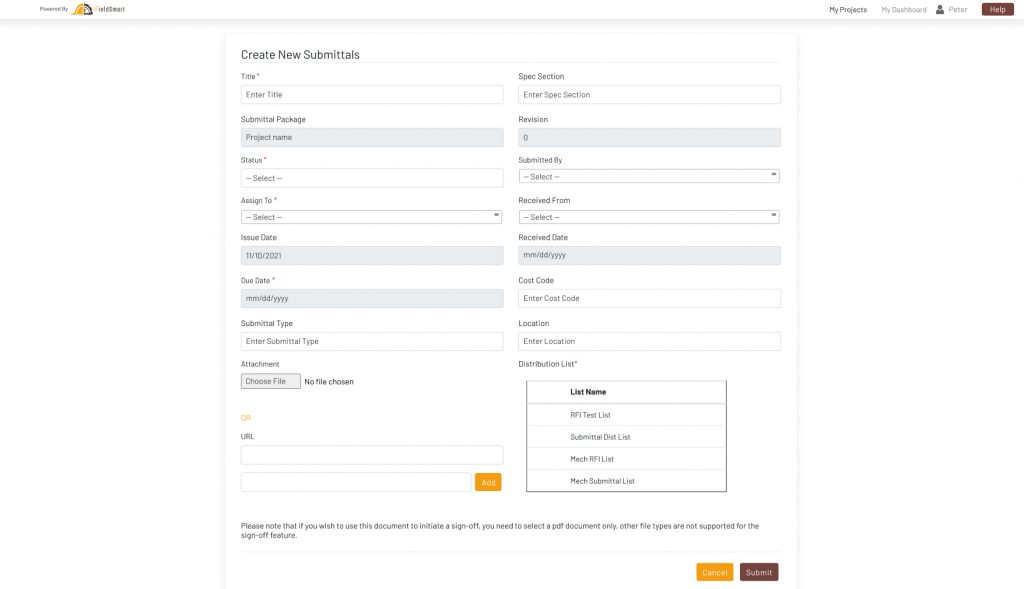 Save and access data on the cloud
Project teams can separate folders for each project to store data with various features to work on. Generating QR codes for files helps project teams get a complete snapshot of the information within the file. General contractors or specialty contractors using the cloud feature can start an immediate meeting on a selected file to achieve real-time communication.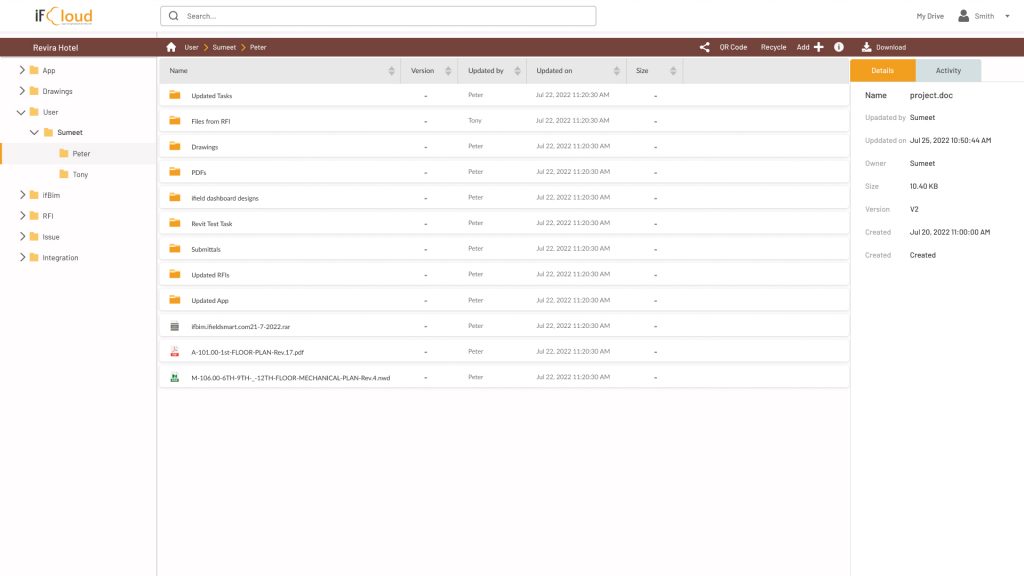 Quickly Assign Tasks
Task management for specialty contractors is critical to assess project progress vs planned timelines. A simple tool to create tasks with appropriate parameters including due dates, status, the person responsible, and selected levels makes it easy for contractors to create accurate invoices against work completed. The functionality to begin and end tasks with a simple slider is the easiest way for teams to manage tasks for multiple projects.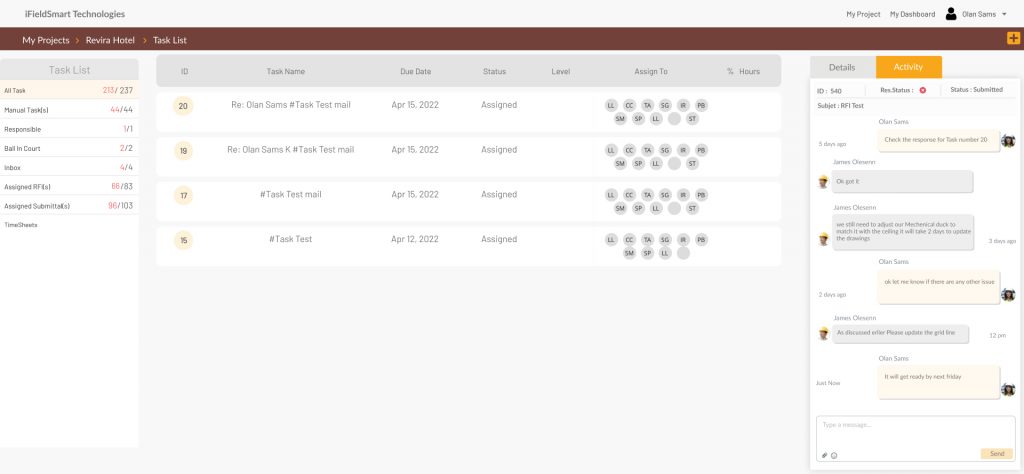 Accurate timesheets
Leveraging an accurate and detailed snapshot of work timesheets encourages precise billing for field personnel. It also supports specialty contractors track the actual project time vs planned events. A detailed view of field time helps calculate project time to determine schedule overages or project completion within planned timelines.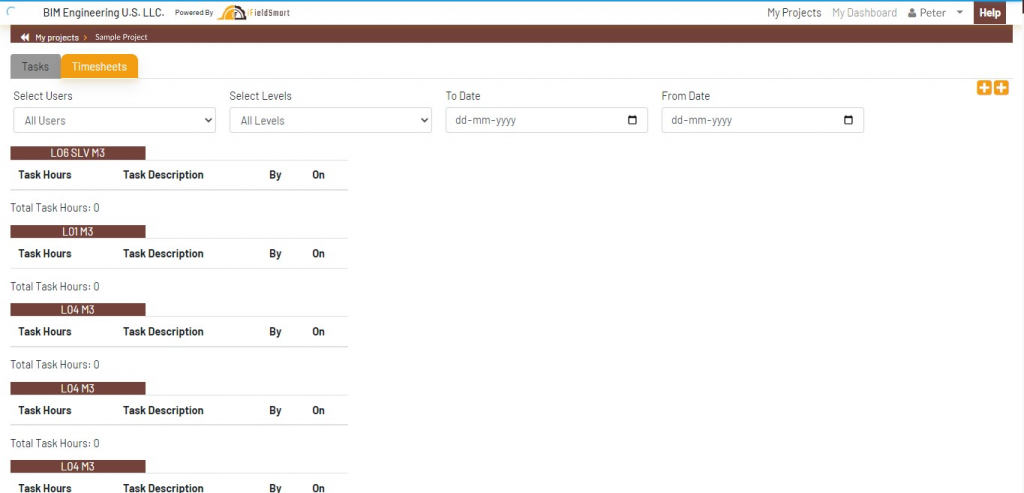 Wrapping it up.
iFieldSmart Technologies is miles ahead in its tech to deliver a best-in-class platform for construction management. With a host of new capabilities for general contractors, specialty contractors, project managers, BIM professionals, and other key audiences, iFieldSmart has been iconic in its design, technicality, and delivery of a unique construction management tool that speaks a single construction language.
Visit Us: www.ifieldsmart.com