There is no doubt we are wired for a personalized connection. Seeing people in person makes it easier to understand their facial movements, attributes, and personalities. With technology penetrating the whole experience of personal meetings, you don't have to meet people on a one-on-one basis.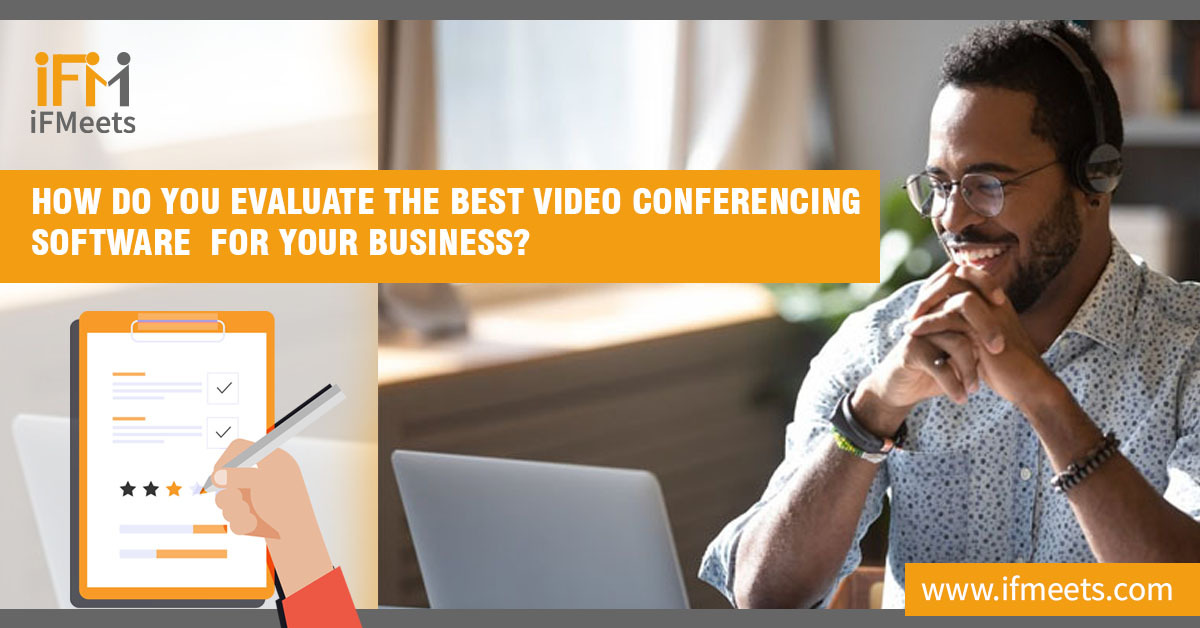 With a desktop, laptop, or a mobile device webcam, dispersed members of your team can leverage high-quality audio and video, and a comprehensive suite of features and tools to leverage a great virtual meeting experience for your business.
What is Video Conferencing Software?
Online video conferencing software is a platform used by various individuals on a global level to conduct live meetings, presentations, webinars, classes, etc. This technology can transmit information through various formats viz. text, images, audio, video, PPT's, etc. Video conferencing software helps enterprises save on cost and time as it minimizes IT expenses and involvement. It saves on travel costs as users can interact from any corner of the globe. With real-time screen sharing, meeting recording, meetings based on agenda, HD audio & video, whiteboarding, secure virtual meetings, cloud storage, and more, video conferencing software has a myriad of use cases or applications.
The Virtual meeting & learning experience.
Video conferencing software has become indispensable in times of uncertainty and global technology evolution. Enterprise globalization has become a key aspect wherein every medium to a large corporation, schools, healthcare, telecommunication, etc. have to install top-of-the-line video conferencing applications.
Transmitting and receiving digital assets in multiple formats over the web enables organizational initiation, business continuity, better collaboration, enhanced ROI's, etc. Working from home becomes more productive as it garners better collaboration between global clients and partners, and cuts travel costs.
Modern video conferencing or web conferencing software facilitates multiple communication channels at once With instant chats, real-time communication, multiple meeting rooms, screen-sharing, etc. every project participant receives the right to participate and express their point of view.
Use Free Video Conference Software to know the product.
It is recommended users try the free version of the product to know the product and its features. An overall comparison of other online video conferencing software helps users learn about product suitability for an enterprise, business, or use case.
What are the targeted businesses or use cases?
Video conferencing software can be used by various businesses or use cases viz. Architecture & Construction, Financial Services, IT, Legal, Education, Marketing, Oil, Gas, and Energy, Sales, Healthcare, and other crucial business applications
Companies that run multiple offices can leverage top video conferencing software to reduce travel costs and connect various employees from different geographic locations
Remote workers permitted to work from home or on the field
Startups and small groups can deploy video conferencing applications.
What are the different types of Video Conferencing applications?
Integrated video conferencing – specifically used in conference rooms, classrooms, etc.
Telepresence – gives the characteristic of being present in a meeting with attendees from various locations
Appliance video conferencing – can be integrated with a camera, conference phone, or other codec equipment
Service-based conferencing – used as a service provided by a third-party provider
Desktop conferencing – video communications are based on your workstation
What to look for when grading a video conferencing software for your business?
There are various features users can leverage through top video conferencing software that includes –
Screen-sharing
HD audio & video
Meeting & presentation recording
Whiteboards
Private and local chats
On-demand webcasts
Record and playback
Virtual backgrounds
Multiple meeting rooms
Meetings based on agenda
Multi-software interoperability
Add-ons
Video Conferencing software security
Transcription
Minutes of Meeting
Mobile Features & voice command
Plans and Pricing
What are the benefits of using Video Conferencing Software?
Promotes business productivity as there is no installation cost and zero expenses on IT infrastructure
Creates good time and promotes team collaboration
Flexible communication system promotes better management and monitoring
Presentation of data in real-time
Facilitates better hiring & instruction transmission
Higher learning effectiveness and productivity
Promotes new business opportunities with face-to-face support
Better team performance based on shorter meetings, shorter time to travel, higher attendance rates, and access to various people.
What are the expectations of remote working & video conferencing?
Unlike other software, online video conferencing software will continue to move deeper into various use cases, rather than scaling horizontally. Video conferencing software will be responsible to manage various aspects of business, learning & development, etc. through virtual meetings, virtual learning, and remote working. With top-of-the-line software and hardware interfacing, video conferencing software can add exceptional value for every application.
Comparison of top video conferencing software in 2020
Top Features of the best online video conferencing software
iFMeets
iFMeets is a high-end video conferencing platform that can be used for multiple use cases and applications. It is highly secure as the software is made for closed-linked meetings, granular presenter permissions, SSL, and the application does not store any cache after the meeting or presentation is over. With an easy setup, iFMeets offers high-end video and web conferencing features in their free plan.
Some of the top features include grid and full-screen layouts, secure screen sharing, sessions with breakout rooms, exclusive chats, quick meetings, whiteboards, agenda-based meetings, favorite meetings, annotation features, meeting recording, and lots more. Looking at this product iFMeets, it has achieved market disruptions in terms of the price points and catering business pain-points with a comprehensive suite of features.
The Pro and Business plans are priced at $9.99/mo/host, and this product is the most competitive in terms of its plan pricing. In terms of a pro or business user, it serves every requirement with 500 participants for both the plans, good meeting duration limit, safe and customized meeting id's, company branding, breakout rooms, etc. The extra charges which are extremely nominal are set for meeting recording, transcripts, meeting minutes, webinar hosting, etc.
Conclusion
Online video conferencing software will penetrate deeper rather than growing larger. As enterprises are looking at the remote working model, video conferencing will play an important role in virtual meetings, presentations, whiteboards, agendas, etc.
With every use case deploying video conferencing applications, the need to build robust and streamlined software and hardware will be quite crucial. The cloud will continue to play a vital role, whereas various security protocols will have to be put in place to manage data security. The world will become a smaller place with the adoption of high-end video conferencing software.
Visit us: –https://www.ifmeets.com/