Talking about synergy, it is added value to the CRM user using its alignment with web conferencing tools. The combination of the two technologies makes it more powerful and useful than a standalone approach.
Through the years, CRM has gone beyond its technical abilities within an organization. Commonly known by its acronym CRM in business jargon, it has been extremely responsive to devise strategic processes to ease customer service; and has, moreover been an influential element in building organic and long-lasting relationships between organizations and their clients. As more and more organizations have become aware of this compatible function.
In the context of a CRM system, the term integration signifies the alliance of marketing and sales processes to a CRM software. This creates a seamless coexistence between the former and the latter in a company. In its core form, CRM is quintessential for maintaining customer information, but when integrated with other elements like video conferencing software drives comprehensive automation to boost sales and marketing. Wouldn't it be easier for teams and businesses if your software stack was fully optimized?
Alongside the sales and marketing teams, even an accounting team would probably be one of those units in an organization that deals with customer data. The fact that accounting teams can go through an unsurmountable amount of data on a perpetual basis is a fact; similarly, there are various departments like support, feedback, etc. that contains tons of data in terms of names, contacts, email ID's, etc. Most companies just have pre-conceived notions that teams can survive without such integrations or APIs. The integration of CRM systems to video conferencing software isn't costly.
Common web conferencing scenarios to see how the integration of CRM with video conferencing makes things better:
Scenario # 1: Augmenting sales growth.
With video conferencing, sales managers can set up a video conferencing environment where sales professionals have everything in place to follow a pre-defined sales strategy. Furthermore, video conferences can be recorded and archived and used as future examples in various sales scenarios. With the integration of video conferencing and CRM systems, sales reps and managers can document observations and notes.
Scenario # 2: Training your sales workforce.
With video conferencing at the helm, sessions can be recorded of what has transpired in the meeting, and action items that come out of the meeting. It allows sales managers to use archived meetings as a coaching tool, replaying clips, and providing feedback for enhanced performance. With the addition of a CRM, coaching can be tracked and monitored by sales managers to monitor the performance of sales reps.
Scenario # 3: Record valuable information.
As video or web conferences draw attendees from various locations, sales professionals find it a crucial platform or venue for posing questions on company structure, business processes, etc. Instant polls through video conferencing applications help assess whether the customer requires a product and whether they are ready to make a purchase. Integrating CRM's with video conferencing helps ensure that sales reps record valuable information for other internal team members to access in the future.
Scenario # 4: Recognize upselling probabilities.
Web conferencing or video conferencing encourages frequent interaction between sales reps, decision-makers, and company stakeholders. Video conferencing is a powerful way to uncover new opportunities in sales & marketing. The perks of conducting such conferences in the context of CRM helps record opportunities in real-time for future follow-up.
Companies need to start moving forward with time and start realizing video conferencing integration benefits like quick meetings with customers or internal teams, zero investment for expensive software or hardware, video presentations with customers, meeting recording, real-time communication and collaboration, and more. Salesforce, Cisco Spark, Zoho, Zendesk, etc. are some of the CRM's available in the market. Video Conferencing software like iFMeets enables quick and easy integration with any CRM platform.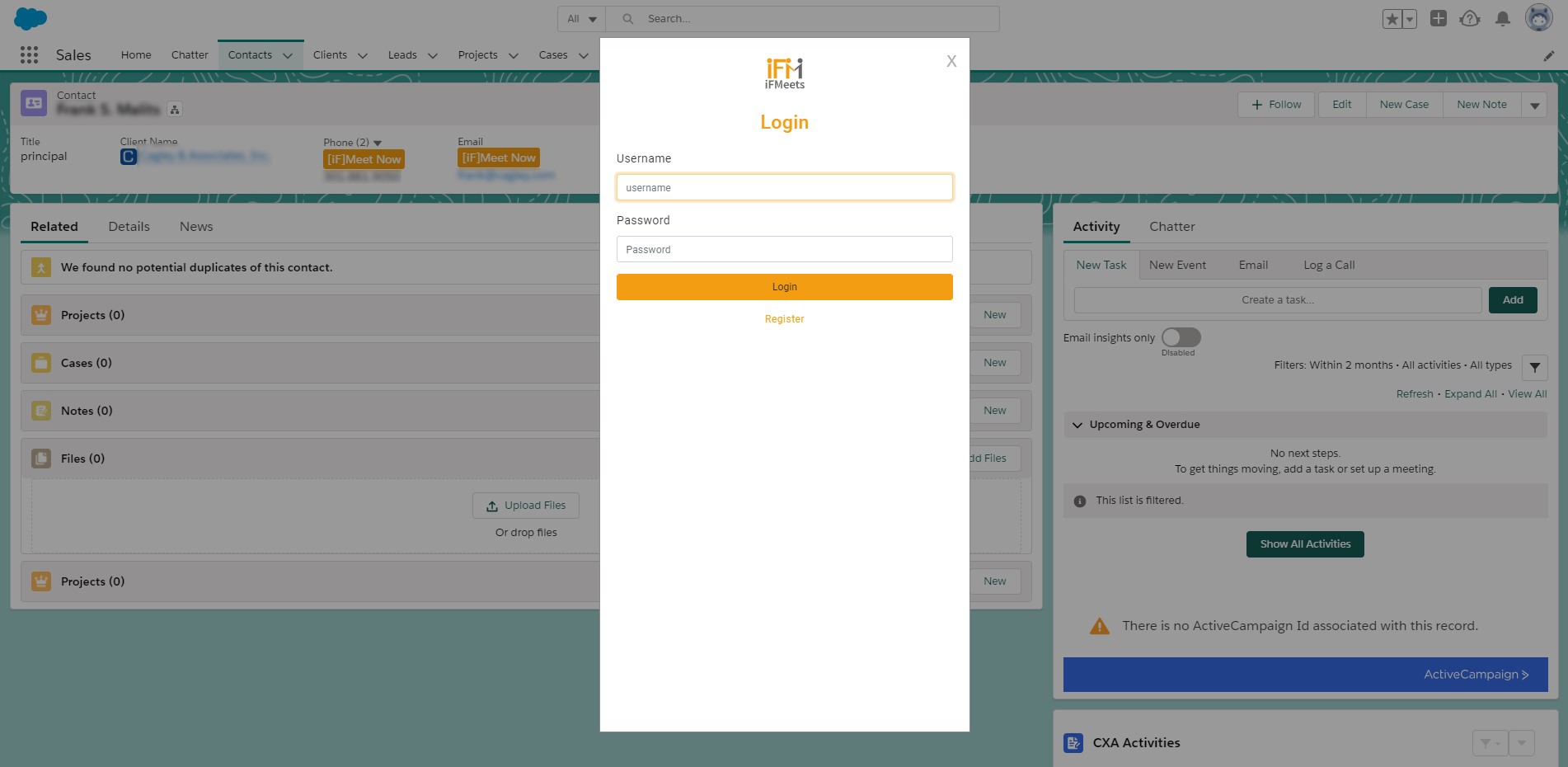 Not that it is a crime to run without a CRM system; but with the current industry pace, every entity needs to keep up with fleeting evolution that occurs within it. An unorganized database? An outdated online conferencing system? Documentation of daily activities? These are some of the critical tasks that CRM's need to perform, so why do it manually, let your CRMs do it for you.
Today's hosted CRM's offer the ability to create quick and easy to track fields in the CRM application, and the ability to link it directly with another application.
iFMeets is all about collaboration and productivity. Collaborate with your teammates or customers with a single click – even when you're on the go. If it can't wait till tomorrow, simply begin your meetings from iFMeets. Type, share files and talk without having to switch between a stack of apps.
Conclusion:
Making things simpler for businesses through the integration of CRM's and video conferencing is key. It gives sales reps, managers, and the senior staff to host meetings from any location, anytime. A single click makes it possible to schedule a meeting. You can add the iFMeets extension as the default option for any meeting you schedule with CRM's like Salesforce, Hubspot, Zoho, etc.
Visit Us:- www.ifmeets.com