Construction management involves a series of activities within various project phases including planning, design, construction, and facilities management. Effective and efficient construction management aims at four principal objectives viz. scope, time, cost, and quality. Connected construction management processes and tools plug gaps between planners, designers, contractors, construction managers, and onsite personnel to achieve hassle-free field operations. Collaborating on key aspects would include:
Building the project scope during the early design phase
Scheduling and planning
Project tracking and reporting
Monitoring changes and tracking risks during field operations
Collaboration during planning, design, and construction
Implementing new workflows and construction management tools for optimum project delivery
Adopting lean processes
Setting the scope and initiating projects.
This is the stepping stone for design and construction teams to participate early on to analyze project feasibility. Collaborating on work scope with clarity during preconstruction makes every process seamless and connected to the entire project lifecycle.
Key capabilities from iFieldSmart Technologies:
Meetings
Project Settings: Distribution lists and QC checklists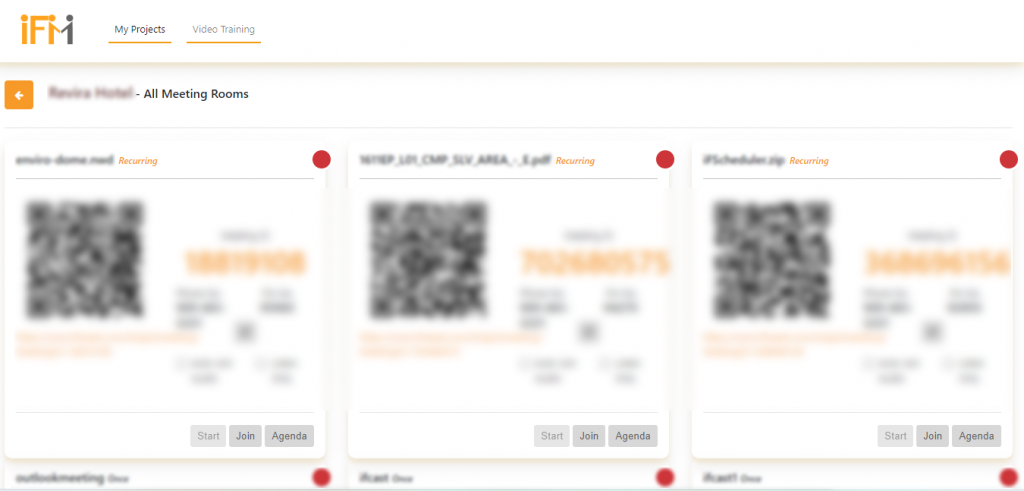 Get on a quick meeting to clarify the scope.
Scheduling and planning.
Creating schedules with conventional methods including fragmented Excel sheets or physical workbooks can be inaccurate and incomplete. Any construction project requires effective and efficient planning backed by visual scheduling to complete construction projects within budget and time. Creating a step-by-step schedule of events based on activities, levels, room no, and start and finish dates enriched by a visual Gantt Chart simplifies scheduling for teams through graphical visualization. Detailed planning and scheduling tools can bring clarity to project scope, save costs, and finish projects within schedule.
Key capabilities from iFieldSmart Technologies:
Use a data-driven scheduler for effective planning and schedule tracking.
Track field tasks with a complete snapshot of tasks, people, and other capabilities.
Based on a report by McKinsey Global Institute, 77% of megaprojects are behind schedule.
Project reporting and tracking.
Challenges with traditional construction planning include unrealistic planning, silo workflows, lower reliability, pressures on work crews, and inadequate communication.
Field tracking is one of the most important aspects of construction management. Monitoring multiple activities on the field requires a digital platform with features like Task Management to assess field conditions. Monitoring a chronological order of activities on a digital dashboard can support contractors and specialty contractors to save time and costs. Task management data directed from various sources including responsible people, manual task creation, RFIs, Inbox, etc. make activity tracking simple and more efficient.
Projects can be tracked through coordination including 2D coordination, Point Cloud files, 3D uploads, and AR/VR files. Comparing As-Is conditions through side-by-side comparisons of 3D models, drawings, Point Cloud files, and reality capture files.
Key capabilities from iFieldSmart Technologies:
Time Sheets
Reports and Activities
BIM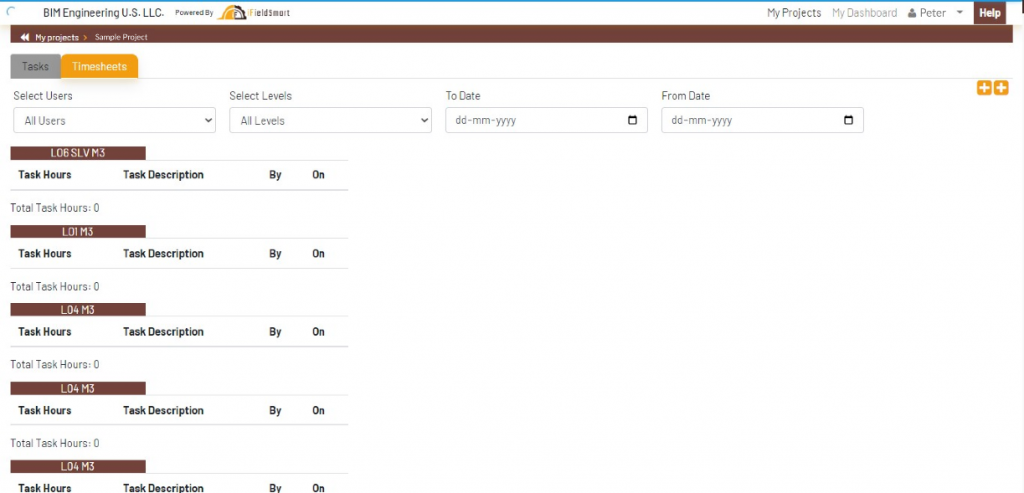 Track field hours with a complete snapshot of users and levels with strong date filters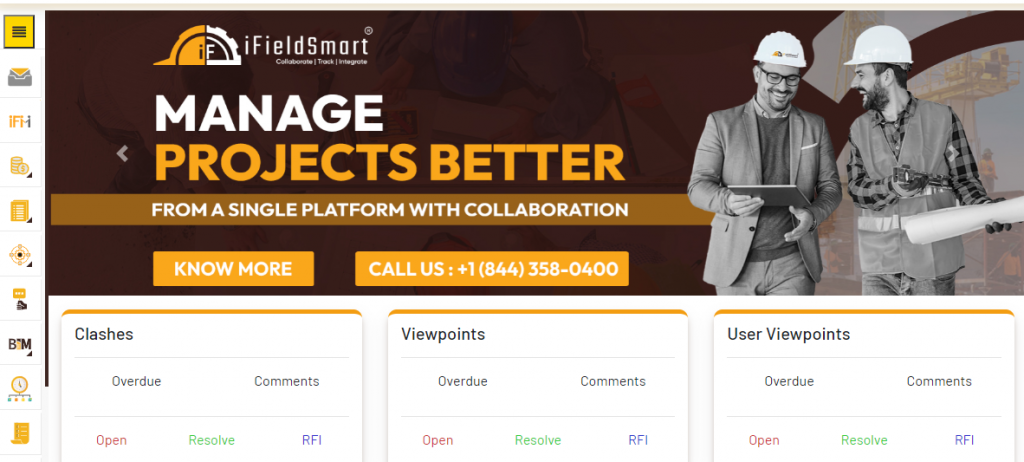 Monitor your project success with real-time reports.
More than 50% of rework is a result of bad project data and inadequate communication.
Risk management during field operations.
Risk management in the field requires effective and efficient document management. RFIs, Submittals, Drawings, Specifications, and Links and Forms reinforced by Field Collaboration through reports and activities can reduce risks in the field. Accurate and updated drawing sets support field personnel with the seamless installation of building components and equipment. Issue integration within drawings, RFIs, and Submittals provides greater clarity and faster problem-solving in real time. Marking critical areas that need improvement or clarity is another aspect that reduces onsite risks.
Key capabilities from iFieldSmart Technologies:
Document management including:
Drawings
RFIs
Submittals
Specifications
Links and Forms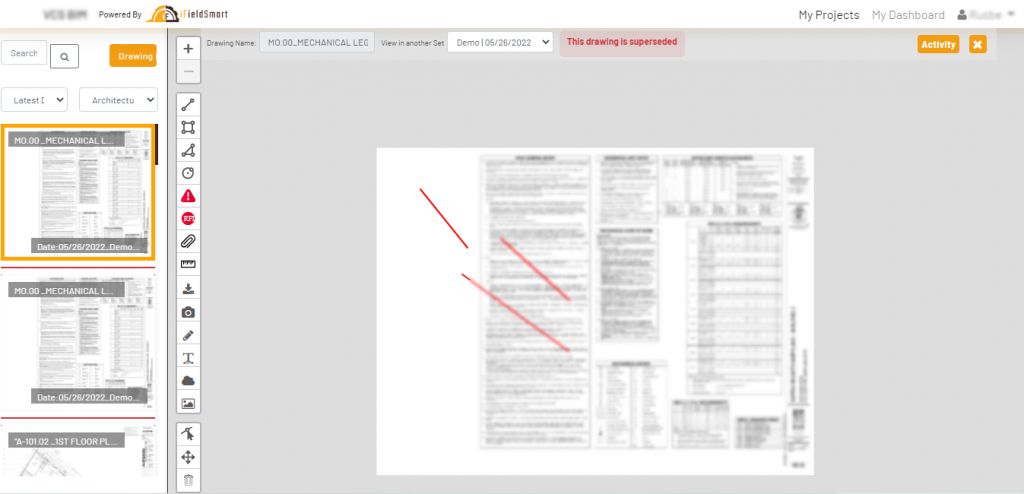 Utilize an updated set of drawings with markups and issue integration.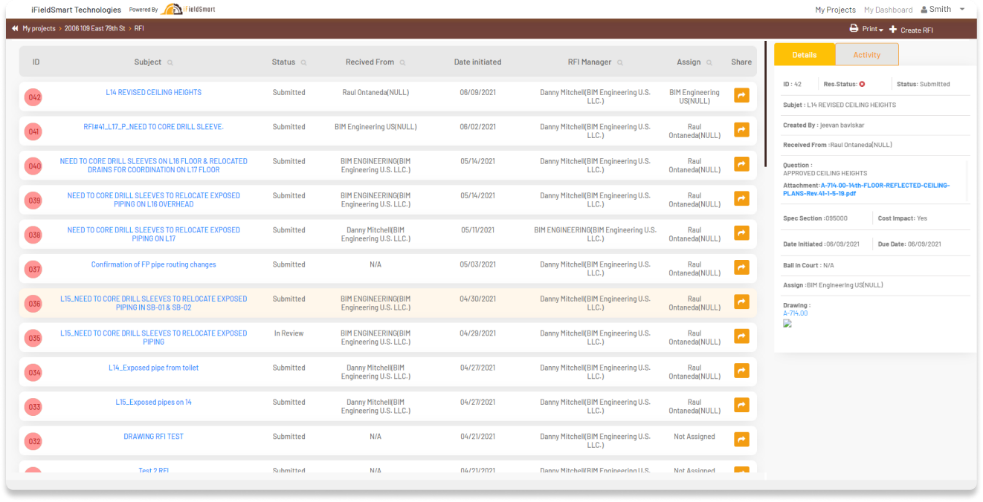 Manage your RFIs effectively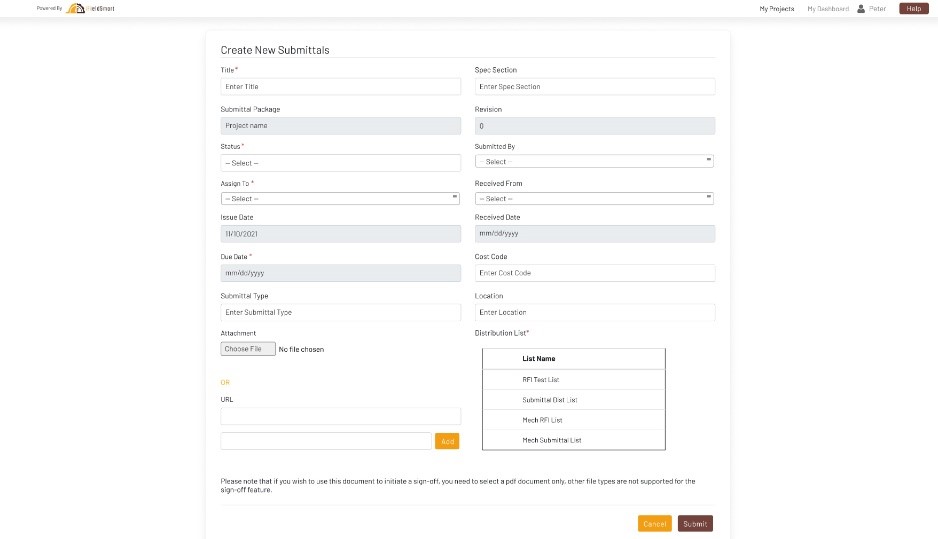 Leverage preemptive Submittal management
Based on a report by the Project analysis group, 35% of construction projects demonstrate critical changes.
Communication and collaboration.
Design and construction teams using outdated platforms face a series of challenges to communicate and collaborate in real time. Long email trails, unproductive phone calls, inaccurate note-making, and other communication channels are unable to create positive field outcomes. Multiple teams require video conferencing tools that facilitate real-time communication between multiple teams reinforced by features that include file inclusion, presentations, agenda creation, digital meeting minutes, markup capabilities, and more.
Key capabilities from iFieldSmart Technologies:
Video conferencing through iFMeets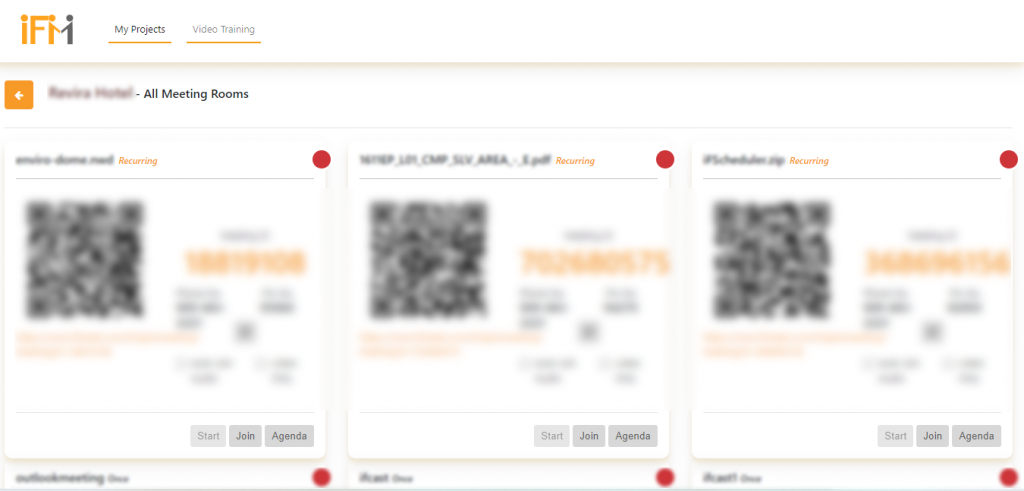 Improve project collaboration and communication with productive meetings.
Use of new construction management software.
Implementing new and advanced construction management software with multiple data handling and visual capabilities on a single screen can improve construction management at a project level. Reinforcing real-time data within a cloud-based platform augments data storage, processing, and access for multiple stakeholders. Utilizing the construction management platform on devices like laptops or smartphones accelerates the construction management process.
Key capabilities from iFieldSmart Technologies:
Field Collaboration
Tasks
Document Management
Quality Control
Building Information Modeling (BIM)
Scheduler
Project Settings
Design Automation
Analytics and Reports
Adopting lean processes
Implementing lean processes ensures smooth construction execution for onsite activities. Lean workflows ensure minimum waste of multiple resources including space, materials, and manpower. The use of lean processes mitigates unexpected problems and ensures seamless work execution. The focus lies more on garnering value through seamless workflows. Taking preemptive action through work reviews, collaboration, real-time data inclusion, and effective planning can help teams achieve milestones at every stage. Perpetual refinements, plans, reviews and reports, milestones, and production through Lean workflows can facilitate positive outcomes.
Key capabilities from iFieldSmart Technologies:
Field Collaboration
Tasks
Document Management
Quality Control
Building Information Modeling (BIM)
Scheduler
Project Settings
Design Automation
Analytics and Reports
Wrapping it up…
The capabilities mentioned above are just a snapshot of what iFieldSmart is capable of. There are numerous features customized for general contractors and specialty contractors to solve field challenges with simplicity. iFieldSmart Technologies urges AEC professionals and firms to latch on to the iFieldSmart platform to realize field outcomes that are cash flow positive, effective, efficient, and high-impact. Schedule a quick demo with our team now!
https://www.ifieldsmart.com/schedule_demo