Whilst procurement and cost challenges plague specialty contractors, the construction industry faces another obstacle of labor shortage along with other challenges that require a cloud-based tech to solve their problem. Specialty contractors need to navigate these dark waters by latching onto a simple, yet powerful construction management platform that eliminates the negative impact of traditional workflows and tools on modern construction.
It has become exigent for specialty contractors to win more bids as sub-contractors' bids become short-lived. With a shelf life of less than a week, specialty contractors are looking at numerous ways to achieve sub-contracting sustainability. This includes supply chain issues, bulk purchasing, project negotiations, and other workarounds with general contracting firms and owners.
The cost of building projects has become alarming, while additional costs of unavailable commodities turn up another concern, says the president and CEO of Cupertino Electric.
With no clarity as to when things will streamline, a necessary shift in workflows and tools needs to be implemented quickly to position sub-contractors for success. Bid approvals do take weeks from owners, and that is a challenge to manage. Some of the potential risks that sub-contractors have faced in 2022 have been illustrated in the pie chart below.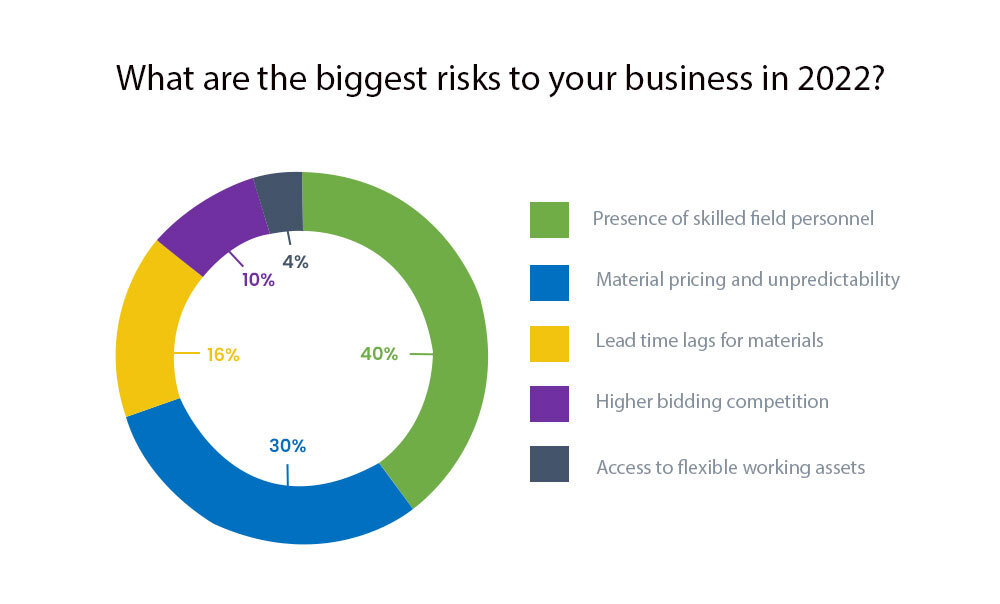 Supply chain issues have affected supplier reliability due to sharp cost adjustments in construction commodities leading to longer lead times. Lead times in an excess of a year can impede services and businesses of specialty contractors leading to lower profits. Another issue hitting sub-contractors is the absence of an escalation clause that can lead to specialty contractors bearing additional or unnecessary costs or wasting unnecessary time negotiating with general contractors.
A high degree of confidence for specialty contractors can be achieved when there is balanced time and effort for a certain construction project backed by due diligence. Early communication and transparency are key to achieving the best outcomes under present-day circumstances.
Labor shortage is another obstacle that requires measures and tools for immediate resolution. According to a Billd survey in 2022, 40% of the respondents have cited labor shortage to be the biggest risk along with volatility and material pricing. Subcontracting firms have latched onto prefabrication to resolve their labor shortage issues backed by 3D modeling capabilities.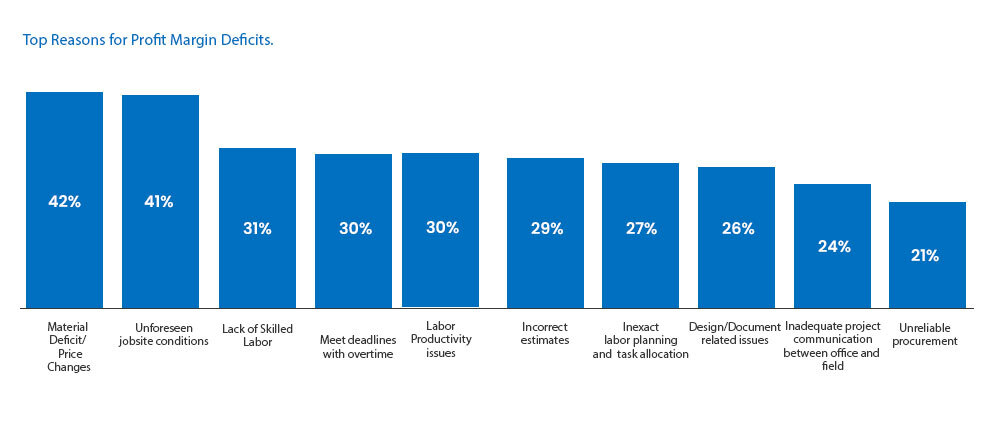 Furthermore, a survey by Billd also suggests 72% of contractors are considering new cloud-based tech to fuel efficiencies, consistency, and long-term value. Upgrading to an all-in-one construction management platform like iFieldSmart Technologies can support specialty contractors to derive higher optimism to select and execute construction projects.
From a survey conducted for specialty contractors, more than 45% of sub-contractors are looking at winning new jobs and increasing profits.
Traditional processes, paper-based systems, fragmented excel sheets, large email trails, and other inefficient tools continue to impede business goals for specialty contractors. Listed below are laser-focused challenges that specialty contractors are perpetually facing for most of their projects.
Inadequate office-to-field communication or collaboration
Specialty contractors are finding it extremely demanding to communicate information from the office to the field with minimal access. Working in silo through individual phone calls, long email trails, incomplete excel sheets, and thousands of paper-based documents diminishes the quality of communication between specialty contractors, laborers, and general contractors.
The solution:
An all-in-one iFieldSmart dashboard that presents a complete snapshot of field data based on virtual conferencing, inbox tasks, updated drawings, real-time annotation within drawings, issue integration, and other capabilities enhances communication quality by miles.
More than 55% of respondents have cited ineffective field-to-office communication as a #1 challenge.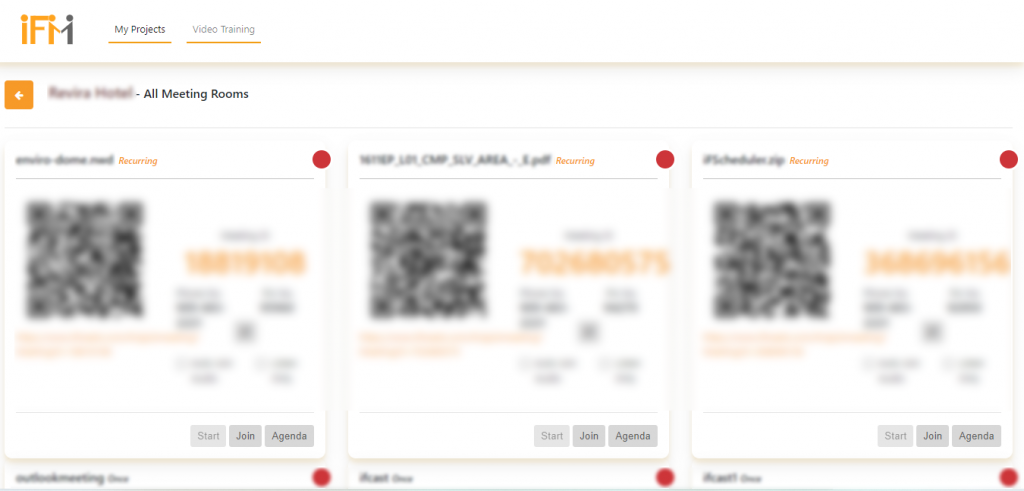 Greater administrative load
Higher administrative load is another obstacle specialty contractors face through manual data entries, disconnected excel sheets, long email trails, and unnecessary phone calls. All these manual processes generate a very high rate of information error at every project stage. Specialty contractors are unable to manage accurate data records. Manual processes do increase the administrative load leading to time and cost delays.
The solution:
iFieldSmart Technologies offers a simple and singular project snapshot of every project data point. Automation within the cloud-based construction management platform eliminates manual entries and puts every stakeholder on the same page with real-time collaboration. The need to know "where is what" is eliminated as information resides on a secure and accessible cloud platform.
More than 50% of specialty contractors have reported multiple software used to manually enter project data.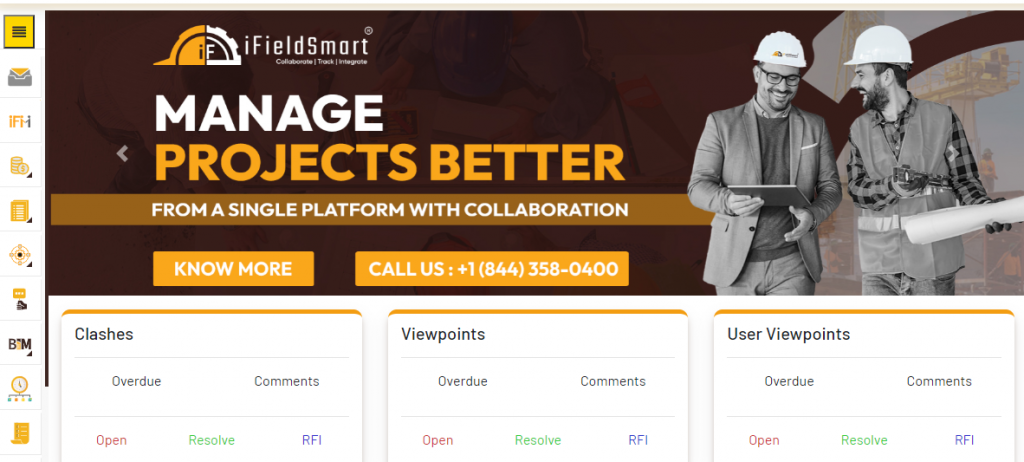 Misplaced or outdated documentation
Again, paper-based systems, long email trails, incomplete excel sheets, and other means to document data lower the performance and output of specialty contractors. Writing down information on paper during a phone call, making physical notes, etc. can fly off the desk and lead to information loss. Utilizing outdated sheets on the field leads to massive rework, communication clashes, and delays.
The solution:
Tech at iFieldSmart Technologies has understood this challenge and presented a powerful solution wherein outdated drawings are superseded, and specialty contractors can access the latest drawing sets to avoid rework. Changes documented within the drawings including error inclusions for RFIs, Submittals, and integrating photos within drawings takes documentation to an all-new level of clarity and accuracy. None of the data within the platform is misplaced or outdated ensuring a high-impact output on the field.
More than 40% of surveyed specialty contractors use outdated processes and tools to manage projects.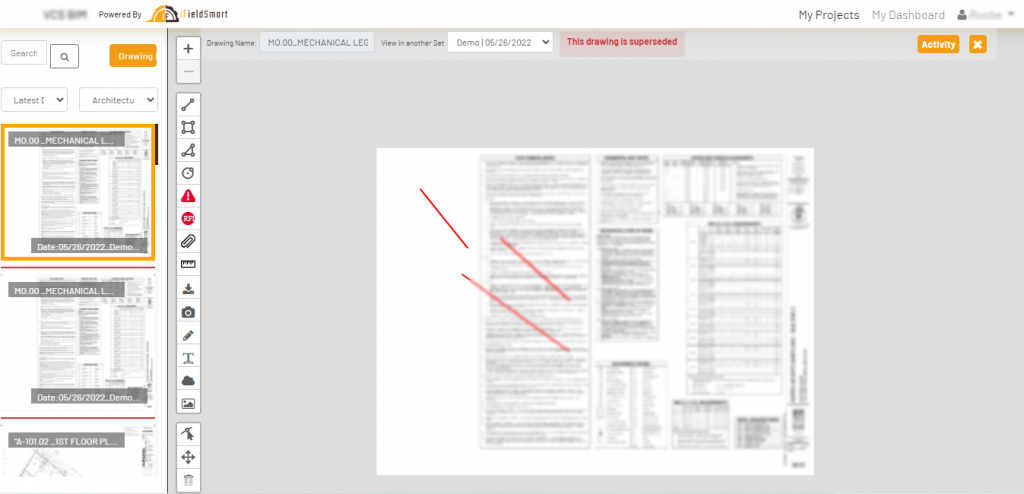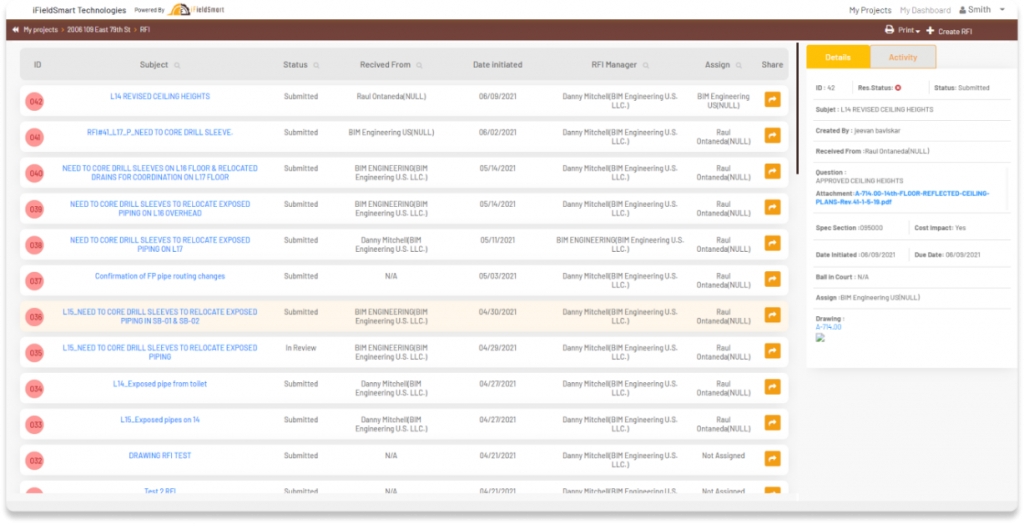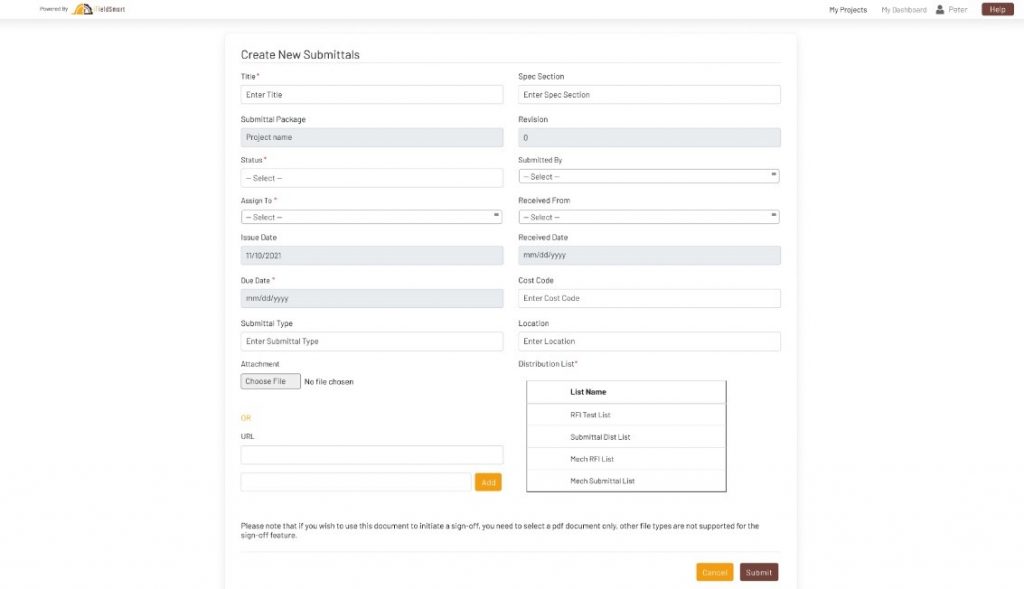 Inaccurate project tracking through legacy timesheets
Project tracking is a key element for specialty contractors. Logging work hours in excel sheets is an old and obsolete way to manage timesheets. Manual intervention to log labor work time leads to errors. Manual tasks management again recorded within word files or excel sheets is a failed method to monitor fieldwork. Delayed response RFIs, incomplete data within submittals, etc. are a cause of costly and unnecessary rework. The inability to track time on a digital platform with graphical reports ensures faulty project tracking with erroneous timesheets.
The solution:
iFieldSmart ensures these challenges are completely removed with cloud-based timesheet tracking. A detailed snapshot of field activity, people responsible, and accurate time recorded on a single view screen makes it simple for specialty contractors to track time.
More than 35% of specialty contractors have put forth the need to eliminate manual time tracking with obsolete timesheets.
As mentioned above, labor shortage is a grave challenge that requires immediate resolution. Ignoring the use of cloud-based construction management platforms can lead to inefficiencies in labor management. Utilizing labor effectively and efficiently can result in improved outcomes on the field.
The solution:
iFieldSmart can manage labor with accurate scheduling and time tracking. Assigning tasks to the right set of people in real time reduces labor issues even when a labor shortage is observed.
More than 75% of construction companies cannot find the right set of workers for their projects.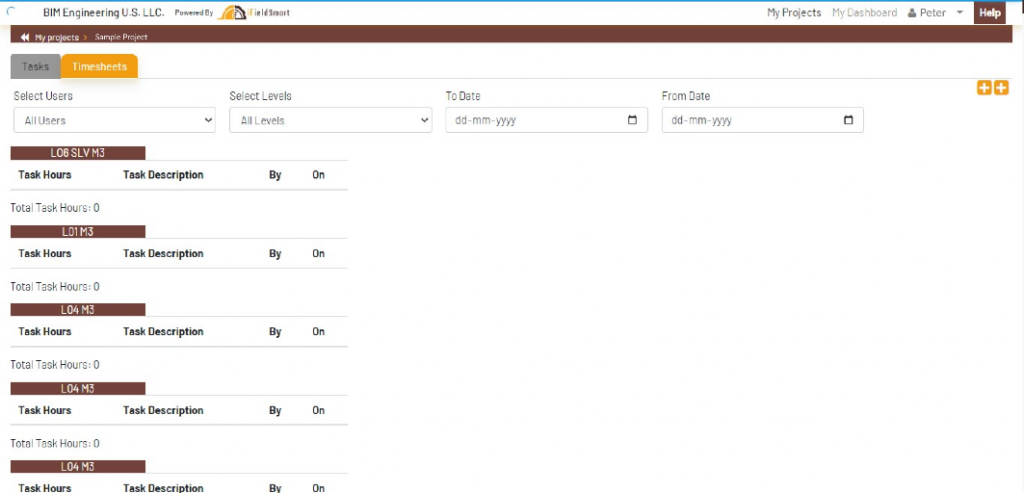 Greater rework and unnecessary overheads
Outdated sheets, documents, or other deliverables used in the field lead to higher rework. Fragmented information within various sources including paper-based systems excel sheets, and undocumented calls lay a path for silo workflows. Utilizing multiple software platforms for different capabilities drives greater cost overheads.
The solution:
iFieldSmart is a one-stop solution for specialty contractors to achieve efficiencies of scale within a cloud-based platform. Updated document sets, project data point collection within a single dashboard, etc. lead the way for faster and more efficient field operations without rework.
More than 20% of surveyed specialty contractors have said rework reduction and lower overheads would be their top priority.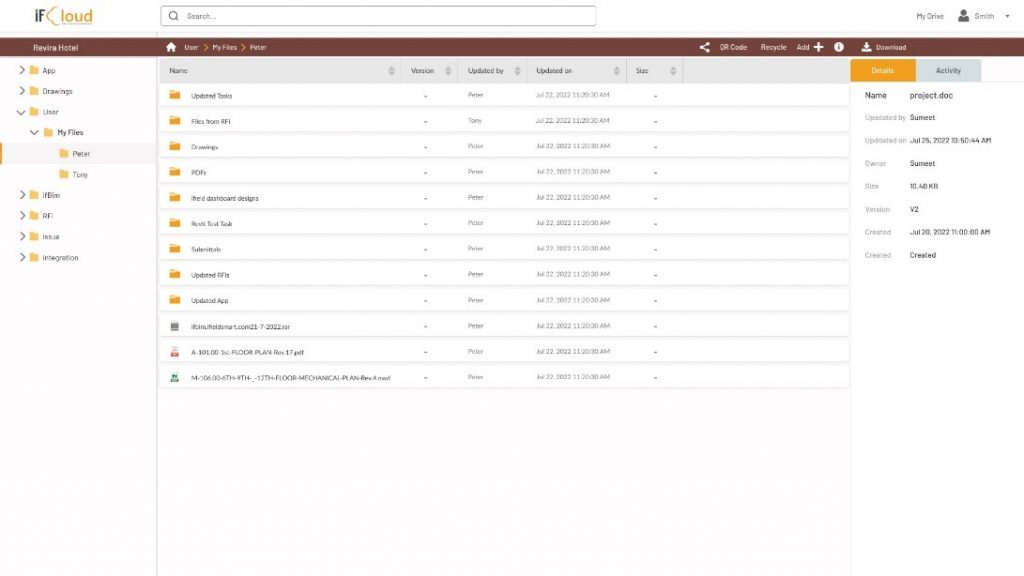 Delayed payments due to faulty schedule and task management
Inaccurate task tracking of field professionals followed by imprecise schedule management fuels billing or invoicing problems. Manual methods of entering task data are outdated and erroneous.
The solution:
A digital cloud-based solution by iFieldSmart Technologies supports specialty contractors to keep track of activities and time with a single-view screen. The Task management dashboard encompasses various task categories including tasks created from the inbox, manual tasks, tasks assigned during video conferencing, etc.
Surveyed users say it takes a month to three months to receive payment from general contractors.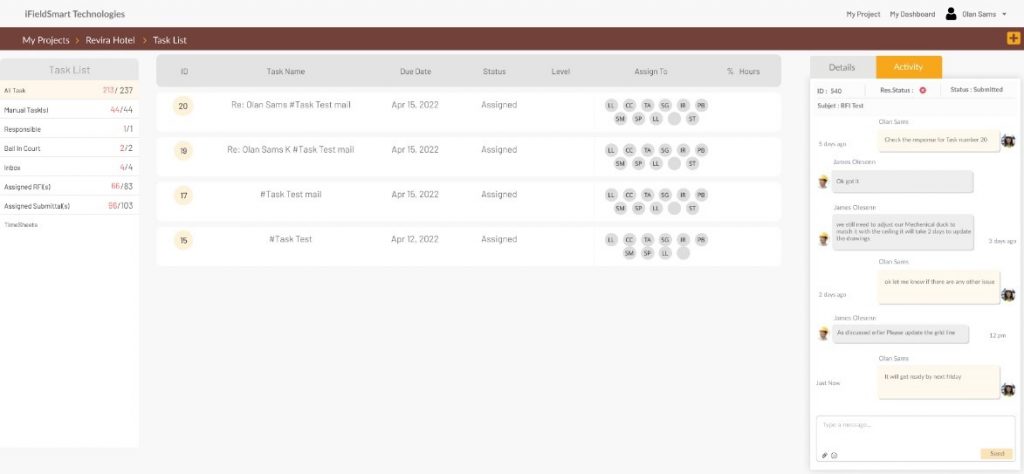 Field safety concerns arise in the absence of 3D visualization or outdated drawings being accessed by field personnel. The inability to identify risk-driven spaces during construction can lead to safety concerns.
The solution:
The iFieldSmart platform provides complete 3D visualization by integrating 3D models within the cloud-based platform. Advanced clash tests performed within the iFieldSmart app resolve interferences before actual construction begins. Proactive document management with updated drawing sets based on various trades and filters make it easy to access and utilize drawings.
Annotated drawings with issue integration including RFIs, Submittals, and other attachments make it simple to access information on the field. Generating QR codes for documents simplifies data access from any location on the field. Construction files stored on the cloud platform can be conferenced upon in real-time for stakeholders from every trade to stay on the same page.
More than 40% of respondents have kept incident records, but still, find it challenging to identify patterns leading to risks.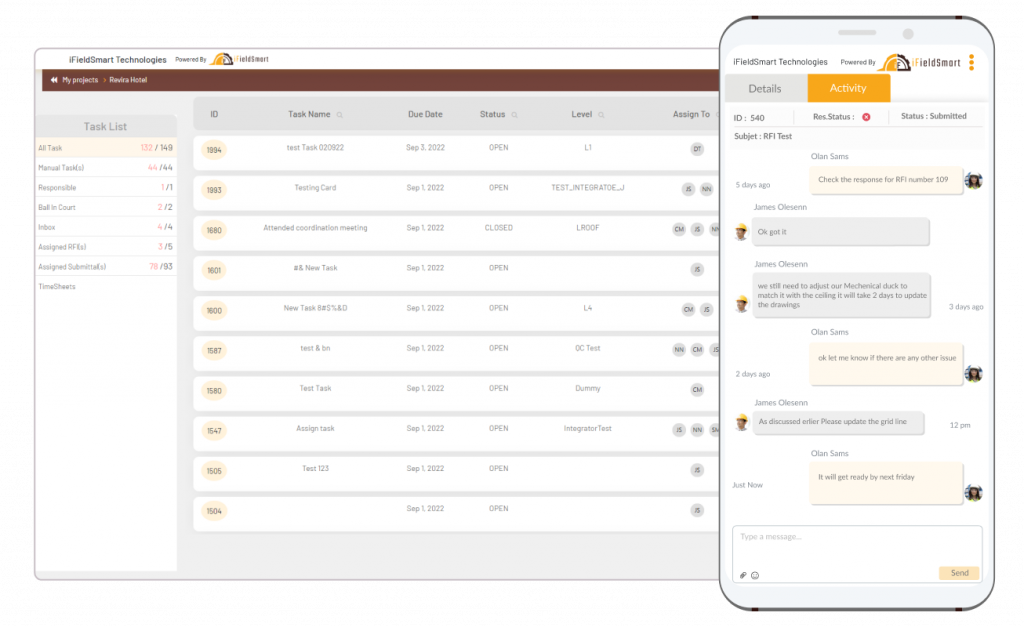 Wrapping it up…
Outdated software, disconnected systems, shrinking project margins, and other issues need an immediate resolution to accelerate field operations, reduce costs, and complete projects within timelines. Learn how iFieldSmart Technologies can support specialty contractors with a custom construction management dashboard and capabilities to overcome challenges.
Visit Us: www.ifieldsmart.com